I recently had an issue with one of my App Volumes server: even if my server was down in an App Volumes point of view (connection lost the database), my Kemp load balancer see it up and running because: the web interface was up and favicon.ico was also available.
The template for App Volumes (part of Horizon 7 Template) is, in my opinion not complete and it missed the right way to configure health check
So the right way to configure load balancer 's health check is the following :
For Kemp :

In the Real Server Check Method, select HTTPS Protocol
In the URL field, type /health_check.
Enable Use HTTP/1.1
In the HTTP Method, select GET if not already the case.
For F5: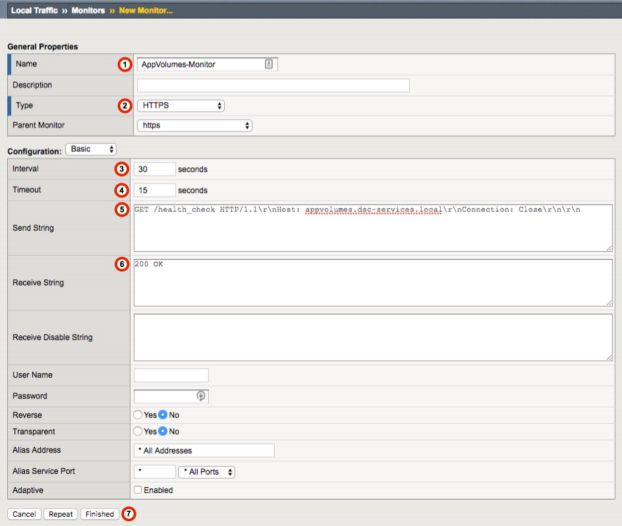 In the Name field, type a unique name such as AppVolumes-Monitor.
From the Type list, select HTTPS.
Set the Interval to 30 Seconds
Set the Timeout to 15 Seconds
In the Send String field, type (Change the FQDN-For-AppVolumes to your FQDN)
GET /health_check HTTP/1.1\r\nHost: FQDN-FOR-AppVolumes\r\nConnection: Close\r\n\r\n
In the Receive String field, type
200 OK
Click Finished.
Source for F5 :
https://www.f5.com/pdf/solution-center/f5-big-ip-vmware-app-volumes-integration-guide.pdf